The open source community is pretty awesome sometimes. Someone says "hey, check out what I made" and makes code available to others and then someone else takes a crude idea and refines it; lather, rinse, repeat. Case in point: ha-floorplan. It started out as a simple mechanism to show motion from Home Assistant integrated sensors.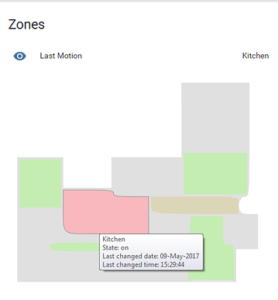 Its inventor, Petar Kozul, posted on the Home Assistant forums saying "check out what I've got!" with a simple image and some demo code. It snowballed from there and there's some pretty impressive stuff out there now.
I have extremely limited graphic skills but figured I'd give it a shot anyhow. Carlo Costanzo started a really awesome looking floor plan and convinced me to give it a shot. I downloaded and installed pretty cool phone app called Magic Plan that lets you use your camera to capture the layout of your house and export it as a SVG.
After I exported the SVG I put it into Adobe Illustrator and added some circles for lights, a fan, some windows and got it configured to where it'd display and I could click to interact. Amazon had Kindle Fire 7 tablets on sale on Prime Day so I picked one up. I 3d printed some brackets and installed a recessed outlet box with a USB power port and I'm good to go. I'll keep working on making the floor plan graphics more appealing but it'll be good enough to test the mounts and general use of the tablet.
The following items were used: